News and Upcoming Events
Parish News
The Season after Pentecost begins...
June 9, the Day of Pentecost, was the last day of the season of Eastertide. Now we are in the long growing Season after Pentecost. The confession and absolution will return in our weekly celebrations of Holy Eucharist. We will move from Eucharistic 
Summer Christian Formation and Fellowship for Children and Youth
Fridays in June and July (except July 26): Summer Swimming Meet-Ups!
Kids of all ages WITH their parents/guardians are invited to this weekly fellowship opportunity! We will swim each Friday in June and July beginning on June 7, 10:00-11:30 a.m. Join us at Alice and Nelson Smith's pool at 310 Woodland Oaks Trail in Buda. Contact Catherine LaGrone for more info catherine@stalbansaustin.org. There will be no swimming on July 26 due to Vacation Bible School.
 
Sundays: LEGO Bible!
From 11:30a.m. to 12:15 p.m., children and youth will be hearing the stories of the Miracles of Jesus and responding with LEGOs. Ages 3-18 years are welcome!
 
June 15-21: Youth Mission Trip
Please pray for our youth and adults as they live in community with one another and serve the Memphis community alongside local Episcopal churches and non-profits.
 
Rector's Summer Book Study

Join the Rector's Summer Book Study, from 11:30 a.m. - 12:15 p.m. in the Upper Room! You can participate in every session, or just the few that fit your schedule and your interest. Simply purchase the book or eBook and if possible read the assigned pages before the session. We'll talk about the selected reading in the book and then have guided discovery about our own lives. This summer we will read and discuss The Gifts of Imperfection: Let Go of Who You Think You're Supposed to Be and Embrace Who You Are by Brené Brown, Ph.D., LMSW. Brené has spent the past two decades studying courage, vulnerability, shame, and empathy. Even if you don't read before you come, you'll still leave with some food for thought and wholehearted living. This Book Study begins June 23, when we will discuss the first chapter (p. 1-48) "Wholehearted Living, the Gifts of Imperfection and the Power of Love." Scholarship help is available for book purchase – just talk with Rev. Erin. 
Vacation Bible School: July 22-26
St. Alban's Vacation Bible School 2019 will be July 22-26, and we will be using Cokesbury's To Mars and Beyond as our theme for the week. This out of this world adventure will help kids discover the wonders of God's universe while learning the stories of God's People, making friends, doing super cool science experiments, cosmic crafts, and marvelous music!!!! Register now to ensure your spot! Youth (rising 7th graders and up) please register as volunteers. Thanks!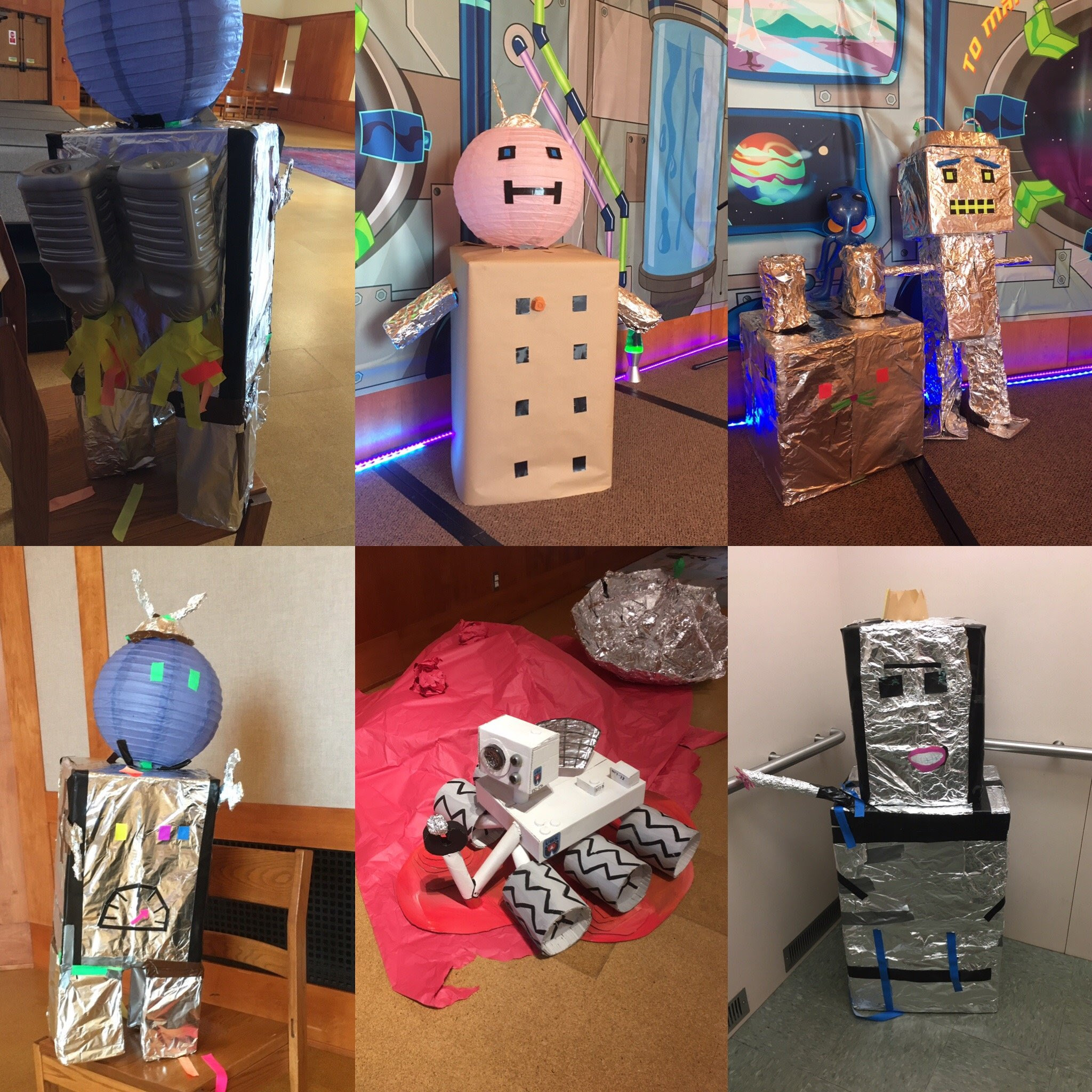 All are invited to participate in a "Recycled Robot" Contest as we get ready for VBS! Have your robots of any size and style, made with recycled materials, to the Parish Life Center on or before Saturday, 7/20 so that they can be used to help decorate for VBS. Contest winners will be chosen and awarded on Thursday evening, 7/25, at our annual VBS Family and Friends I've Cream Social at 6 p.m.!
 
Please consider checking out the VBS Donation Board in the PLC. Items needed will be listed on Post-It notes on the Board. Pull off a Post-It (or 2 or 3!) and make a note of your name, contact info, and items selected on the clipboard on the table nearby and make a big difference! Thanks!
Update on St. Alban's relationship with Refugee Services of Texas (RST) As many of you may know, St. Alban's has worked with Refugee Services of Texas over the last ten years to help with the resettlement of 20 families fleeing suffering and war in their home countries.  St. Alban's Welcome Team now consists of almost 20 parishioners, with many of you helping by contributing furnishings, money, and physical labor. That program has been on hold at St Alban's while the political climate sorted itself out and while we found new storage facilities for your generous contributions.  The good news is "We're Back!"  RST is now receiving families and parishioner Jennifer Price has generously provided a storage unit for our use.  This past Thursday, May 23, Megan Wright, Volunteer Coordinator for RST, joined us for a pot luck dinner to help us understand the current status of the program, and how we at St Alban's can best help them with their very important mission.  Thanks to each of you who have been so generous in the past with your donations, contributions and encouragement.  We expect to receive news of our 21st family soon; stand by for opportunities to know and help our newest neighbors!  
St. Alban's and Trinity Center  Did you know that one of St. Alban's community partners is Trinity Center? Trinity Center is a faith-based organization conducting programs that serve the spiritual, emotional and physical needs of the poor and homeless in Austin. You can help! In the lobby of the Parish Life Center you will find a plastic bin to place items that are always needed by the Center. They will be delivered weekly. Items needed: sundries (items from motel/hotel rooms such as shampoo conditioner, soap, lotion, etc.), combs, new socks, magazines on most any subject (Time, Newsweek, People, U.S. News World Report, Women's magazines, Sports Illustrated, etc.). Any questions regarding suitable items can be directed to John Rouse at 512-925-6859.  All donations will be appreciated!
St. Alban's hosts Texas Christian University's summer reading programs
The Institute of Reading Development (IRD) through Texas Christian University offers summer reading programs throughout the city. IRD is renting the Assembly Room at the following dates and times this summer:
Mondays | 6/10, 6/17, 6/24, 7/1, 7/8 | 12p.m. to 5:15p.m.
Fridays | 6/14, 6/21, 6/28, 7/5, 7/12 | 8:45a.m. to 4:45p.m.
Saturdays | 6/15, 6/22, 6/29, 7/6, 7/13 | 8a.m. to 2:45p.m.
In addition to paying a fee for rent, there are also scholarships available for St. Alban's parishioners. Looking for a summer reading program for your child? Check out details about this program here http://tcu.readingprograms.org/ and call IRD contact Christine Jugueta at (415) 884-8118 to take advantage of scholarships for St. Alban's parishioners.
Vestry Decision
On Sunday, February 17, St. Alban's Rector and Vestry unanimously voted that Jesus was indeed leading us to liturgically celebrate same sex marriage in St. Alban's sanctuary. Details to follow in a parish wide mailing. Your Rector and vestry appreciate your prayers, comments, and participation in biblical and liturgical study.
 
 
Gentle Reminder about Driving Carefully Round the Remembrance Garden
Please take extra care when circumnavigating the Remembrance Garden.  The limestone blocks surrounding the garden are fragile and lose every time they make contact with a vehicle.  Help us conserve this special place by making sure not to turn too sharply.
El Buen Samaritano Episcopal Mission
One of our Community Partners is El Buen Samaritano, whose mission is a "commitment to helping Latino and other families in Central Texas lead healthy, productive and secure lives through high-quality and affordable healthcare, education and basic needs services." St. Alban's collects canned goods year-round for El Buen's food pantry! You can place items in the red wagon in the lobby of the Parish Life Center. Want more information? Contact St. Alban's parishioner Jennifer Cawley at jcawley@talhi.com.
 
Senior Serenity: Senior Serenity meets on the second Friday of the month at 11:30 a.m. Come and join us for a potluck luncheon, sharing, prayer, and study! For more information, please contact Ann Brotherton at revannbrotherton@gmail.com
 
Brotherhood of St. Andrew (BoSA): The St. Alban's chapter of the Brotherhood of St. Andrew meets on the second Saturday (8:30 a.m.) and third Sunday (10:15 a.m.) of each month for fellowship, prayer, service, and study. All St. Alban's men are invited!
 
Clickety Clack: Crafters who Care: Clickety Clack typically meets the second and fourth Saturday of each month from 11:00 a.m.-1:00 p.m. in the parlor of the Parish Life Center. Knitters, crocheters, all crafters are invited and welcome!
Parish Announcements Want something about your ministry in the bulletin announcement insert, weekly eNews, St. Alban's Facebook page, and/or parish website? Send information to St. Alban's Communication Officer Lisa Perez at lisaperez@stalbansaustin.org. Even if the meeting is a recurring one, please make sure to contact Lisa so that we double check that it's on the parish calendar in the parish office and we get out timely reminders.
Want something in the spoken announcements or do you want to make a spoken parish ministry related announcement on a Sunday? Contact Rev. Erin erin@stalbansaustin.org, 512-282-5631 (office), or 512-297-9981 (cell). 
Parish Prayer Lists  St. Alban's maintains two separate parish prayer lists. One is public, and is published each Sunday in the worship bulletin. Names remain on this list for a month, unless Rev. Erin is contacted to renew that request. The second prayer list is unpublished and confidential, maintained by the Daughters of the King.
Rev. Erin (512) 282-5632 or erin@stalbansaustin.org                  Diane (832) 407-5041 or dvman22@gmail.com
Large Print Worship Materials: Large print materials for Sunday morning worship are available in the Narthex (lobby) of the church. Please return the large print materials after the service.